40 Hour Pre Engineered Suppression Systems Class
This 40-hour blended format class satisfies the training requirements under Florida Statute 633.304 to qualify for the Florida Pre-engineered Suppression Systems certification examination for permittees and licensees.  Through written and practical instruction, students will learn about the applicable State of Florida statutes, administrative codes, and NFPA standards related to the ability to obtain a license or permit for servicing, recharging, repairing, testing, inspecting and/or properly installing pre-engineered fire suppression systems. Students will also learn about the responsibilities for oversight of fire equipment dealers and technicians, as enforced by Fire Safety Inspectors and Fire Marshals.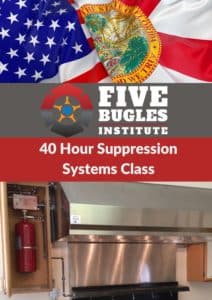 FORMAT:
Online/Blended Classroom
OPEN ENROLLMENT
30 DAY ACCESS
TUITION:
$425
AVAILABLE  HANDS-ON TRAINING DATES:
Click on the course date to enroll
We look forward to seeing you in class!