COURSE DESCRIPTION: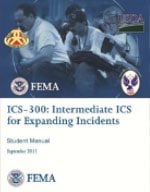 By the end of this course, the student should be able to describe how the NIMS Command and Management component supports the management of expanding incidents and describe the incident/event management process for expanding incidents and supervisors as prescribed by the ICS. The student will be able to implement the incident management process on a simulated Type 3 incident and develop an IAP for a simulated incident.
PRICE: $150 (all course materials provided)
DATE: March 15-17, 2021
TIME: 9:00 am - 5:00 pm
We look forward to seeing you in class!