COURSE DESCRIPTION: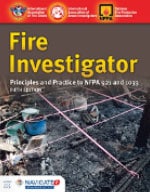 The curriculum in this course is a continuation of origin and cause investigations. The instruction is designed to provide the student with the basic foundations of arson investigations to include, but not limited to, the ethical basis of arson investigations, serial firesetters, juvenile firesetters, the different types of arson found in Florida, specific evidentiary issues, the impact of Daubert court decisions on testifying in arson cases, the proper manner of recording arson investigations, evidence collection, specific arson fire sets and safety at the arson scene. This course follows the                                     requirements for qualifications as a fire investigator as set for in the NFPA 1033 Standards for                                           Professional Qualifications for Fire Investigators.
PRICE: $395
(all course books included)
We look forward to seeing you in class!